A writer's notebook is not a final paper but rather reflects the development of a work or series of works. In the informal, recursive, yet productive practice of creating notebooks online, ideas and sources are developed and slowly emerge.
"The missing recollection in my mind -- of when on April 13, 1970, an oxygen tank explosion aboard Apollo 13 sent mission control and the three astronauts into a nightmare of difficult return -- was not acknowledged until I left the room when Toby played the video of Apollo 13. I think it was because in April 1970, the atmosphere of worry and gloom was so pervasive that even the magic of the return of the astronauts could not dispel the ghosts of the men who died at Cape Canaveral, six years earlier."
"In the field of space exploration, while most are familiar with Dr. Mae Jemison, few are aware that Katherine Coleman Goble Johnson was a key member of the control room during the Apollo 13 crisis. Katherine Johnson, a physicist, space scientist and mathematician, was instrumental in formulating calculations that helped the Apollo 13 return home safely in 1970 after a fuel tank explosion and computer system failure."
In potential support of Katherine Johnson's role, these two NASA Technical Reports, published soon after Apollo 13, are also of interest:
A method for determination of approach-velocity corrections for a space vehicle has been presented. The method has been applied to the approach phase of earth-moon trajectories; however, it will also apply to reentry control for moon-earth trajectories. The method is unique in that only a single onboard position measurement is required to determine the guidance correction for controlling the perilune-radius magnitude..." (p.22)
In a work that is composed with generative arrays, the reader may never see every word that was written, and yet, although every narrative detail that I insert into the code has the potential to alter the story, the reader does not see my stuggle to augment the database. Additionally, The new variables I wrote in the past few weeks will appear to the reader, interspersed with other variables, and in some cases the reader will never see them. Indeed, when generating output to illustrate this notebook entry, it was impossible to generate exactly what I wanted.
In a narrative data structure that allows the reader to move between traditional and aleatory narrative, The Yellow Bowl integrates a sequentially told narrative with a randomly (technically pseudo-randomly) accessed narrative. It was first presented at the historic 1992 MLA panel "Hypertext, Hypermedia: Defining a Fictional Form", where I said:
The narrator is a single parent whose name is Grace.
As the reader moves back and forth between the
sequential, fictional stories about Helen and Clara
that Grace tells her daughter
and the randomly displayed, 'true' memories
that she distorts to shape this story,
separate but related narratives emerge.
Following the MLA talk, YB was exhibited at the 1993 FISEA (the Fourth International Symposium on Electronic Art), in Minneapolis and also at Digital Identities, Sheppard Gallery, University of Nevada in 1995 (curated by Joseph DeLappe). Although YB was initially under contract to Eastgate, for a variety of reasons, Forward Anywhere (Malloy and Marshall, 1996) was published instead.
A. The work has 800 lexias. I have a printout of the entire text, and I have a printout of the original BASIC code. However, the disk reader I purchased last winter will not read the floppy version of YB that is in my personal collection. The idea of retyping 800 lexias is daunting, so I will first attempt to look for other copies and/or other methods of extracting the text.
B. Earlier this year, I made the decision to first recreate the original BASIC version of YB and get it running on DOSBox. However, since Eastgate no longer owns this work, I am now considering reprogramming YB with JavaScript in an HTML5/CSS environment. It probably makes sense to recreate the original BASIC version first. But, the decision of how to begin has not yet been made.
1. In the arts, coherent vision is also important and the question -- of whether or not (if they lived in overlapping time periods), a Giotto should repaint the Scrovegni Chapel to compete with a Michelangelo's Sistine Chapel -- might be considered an issue of Giotto's vision versus his desire to play on Michelangelo's stage. Contingently, on the Sistine Chapel walls, Michelangelo himself painted over not only some of his own earlier lunettes but also some of Perugino's frescos. (F. Brodie Lodge, "The Original Sistine Chapel Altar-Piece", Journal of the Royal Society of Arts 86: 4476,September 2, 1938. pp. 1026-1028) A virtual reconstruction is available at https://www.thetimes.co.uk/article/early-sistine-art-brought-back-to-life-dwh5np8tl
It was the intimacy of the early textual online environment that led me to use a first-person female narrator in Uncle Roger, a practice I have continued to use in subsequent works, including its name was Penelope, The Roar of Destiny, l0ve0ne, Difference that a Small Amount of Blue and Arriving Simultaneously. That a woman's use of a female first person narrator was also rare in print narrative did not occur to me -- until I looked at past instances of first person female narrators and saw how many were written by men.
"The writer has us by the hand, forces us along her road, makes us see what she sees, never leaves us for a moment or allows us to forget her," Virginia Woolf writes about Charlotte Bronte's Jane Eyre. (The Common Reader, NY: Harcourt, Brace, 1948, p. 220)
The first-person female narrator is not widely-discussed in electronic literature criticism. However, in Jaishree Odin's Hypertext and the Female Imaginary (University of Minnesota Press, 2010) it is a subtext (the use of a woman photographer's photographic memories in its name was Penelope, for instance).
Contingently, given the importance of documenting the experiences of women coders in different eras, when I began writing Arriving Simultaneously, it did not occur to me that the voice of a female computer programmer -- whose adult life begins in the days when it was customary to hire women coders -- would be challenging for some readers.
T wo things were on my mind when I began this notebook entry. One was the role of the female narrator in electronic literature, and the other was the blurring of fiction and history in works such as Arriving Simultaneously, where the writer creates fictional characters and sets them in a world model based on real and personal histories. The former is too complex for a notebook entry. However, in this notebook, in the coming weeks, I will informally explore this issue.
Writing in the first person limits the author to what the narrator herself sees or has seen. At times this is frustrating. For instance, because The Long and Short of it Lodge, the last file of Arriving Simultaneously, takes place in 2006, the narrator, Diana, does not know what will happen in the social media environment in the ensuing years.
Whether intentionally or not intentionally, writing in the first person also blurs the line between the narrator and the fictional narrator. As Carl Loeffler once wrote (and I recorded in its name was Penelope):

Scibe begins by offering a clever play on authorship within electronic processes. Asking for a name in order to enter the dialogue is a common practice 'on the boards.' The initiate petitions an unmarked of the server to be assigned an identity within its virtual space. In this case, it 'names' the author herself, perhaps misrecognizing her petition or refusing it. She ponders on the cause: her own typing error, a mark of her keyboard habits, or the préexistence of a scribe, which preordains its singularity of signature. 'Scibe' is not the scribe she would want to be, but something proximate. The naming of the 'protagonist' is thus caught in the Net, as is authorship itself, altered within the conditions of electronic writing. The engine of inscription is no longer the 'tool' of authorship, but an active player in the process. Authorship is 'in the Net,' then, organizing a kind of subject position there. Malloy has set up the sense of an interactive subject position, both as author and as protagonist in the response and call form of the fiction-making" (Sue Ellen Case, MFS Modern Fiction Studies 43:3, 1997. pp 631-650,634).
For the reader, sometimes lexias unfold with only one link, such as "Jenny" in the example below:
But immersed in a narrative -- where what the reader is traversing is dominated by the unusual voice of one woman, who speaks as a female observer of male-dominated Silicon Valley culture -- in Uncle Roger, the reader is empowered to shape the narrative by using not just one link but also (if s/he desires), a Boolean combination of words. For instance, the combination of "food" and "men in tan suits" produces lexias, such as the one below:
Outside of academia, it is not uncommon for writers and artists to hold very separate dual careers. Thus, the line between our lives and the world set forth in our work, is complicated by the financial necessity of chameleon lives.
In the late 1960's and early 1970's, José Antonio Villarreal (1924-2010) was immediately above me in the chain of command at Ball Aerospace. He was not precisely my boss; we both reported to Bob (aka the "Big Boss", seen at the Happy Farmer in file 1 of Arriving Simultaneusly.) But when Bob was on deadline or away, José, who at that time was writing The Fifth Horseman, was my boss.
Every time I consider setting forth in more detail the line between fiction and my own life in Arriving Simultaneously,, I stop at José's words in an introductory page to The Fifth Horseman (NY: Doubleday, 1974):
A lmost a year has passed since I began writing Arriving Simultaneously in August 2017. Last week, the sending of the work to Montréal for exhibition in the ELO 2018 Conference and Festival -- hosted by the Université du Québec à Montréal -- resulted in the depression that sometimes occurs when writers and artists finish and release their work. This week, I looked back in my 2016-2017 writer's notebook to see how I conceived the interface a year ago and what changes were made.
In my work, authoring systems build on authoring systems. They are varied to suit the content, yet they evolve from my previous systems. One reason for keeping this notebook is that I can review my initial thinking and look at how the work evolved from its original conception.
Here, excerpted from my 2016-2017 writer's notebook, are the words that I wrote that concern the interface to Arriving Simultaneously.
By Friday, August 18...I had drafted an interface for the beginning of my new work, Arriving Simultaneously, and built on the code that I wrote for "the whole room" to create very preliminary coding for Arriving Simultaneously. On Thursday, in a coffee house, I finished enough text to test the interface and preliminary code. By Friday, a very preliminary build was working! .....
I had tackled recoding Paths of Memory and Painting partially because in preparation for creating the interface and code for Arriving Simultaneously on Multiple Far-Flung Systems, I wanted to look at how I had structured Part 1 of Paths -- why it was done that way and how well it worked. What I decided was that although the many-lexia-entry portals worked well for the fractured memories in "recollected", the interface for "Arriving Simultaneously" would work better if it began with only one visible portal -- the portal for Diana (the main narrator) -- and then other portals would open and close depending on when they were "called" in the narrative.
In retrospect, although the look and feel of the Arriving Simultaneously interface is very different from the look and feel of the main interface for "recollected on this early morning", what I did was not so different from what I decided to do a year ago. Instead of looping and playing against each other like a piece of music as they do in "recollected", in order to reflect an environment of rapidly changing technologies in "Arriving Simultaneously", within subject-controlled arrays, texts are produced at random. Things happen again and again; what is expected occurs or does not occur; every once in a while a treasure emerges. The reader can control where to look but neither the reader nor I can predict what will be read/seen.
Randomly-produced text is a surprisingly flexible device in the creation of electronic literature. In my own work, in the past 30 years, I have used it to simulate how memories come and go for a clerical worker in a word processing shop (in the third file of Uncle Roger); to explore a photographer's visually-detailed memories (in its name was Penelope); as a Monte Carlo-inspired method to reconstruct a 17th century town (in From Ireland with Letters); to explore contingencies in the writing of Virginia Woolf and Dorothy Richardson (in The Whole Room); and now, in Arriving Simultaneously to reflect one woman's passage through a series of environments of emerging technologies.
"Arriving Simultaneously" ends in June 2006 at a time, when Rupert Murdoch has already bought MySpace for a reported 600 million dollars; Facebook is gaining followers; Twitter has just been created and will be publicly released in July. On the positive side, the central "home page" has become a building block for social media networks, as well as a site of interactive communication and information. Circles of friends and the sharing of creative lives have added dimensions that have greatly enhanced the media landscape. Images, sound, video will soon be a core part of the Infosphere. Participation is free, if we accept platform surveillance and control of our content. But. as this last condition indicates, in the process, many of the ideals of the earlier age of community networking have been/will be lost.
W hen Arriving Simultaneously ends, these questions are unanswered: can two women create a social media platform in an arena of four-young-men-headed-platforms-which-soon-attract-deep-investor-funding? If their goal is a vibrant and useful platform for their community of classical musicians, without millions of followers, will the funding be there? Can they leverage their skills as coder and publisher musicians to bring in enough funding to make Ensemble self sustaining? When MySpace fails, should they open Ensemble to all musicians?
As Howard Rheingold: wrote in Net Smart: "The future of digital culture -- yours, mine, and ours -- depends on how well we learn to use the media that have infiltrated, amplified, distracted, enriched, and complicated our lives."
June 25, 2018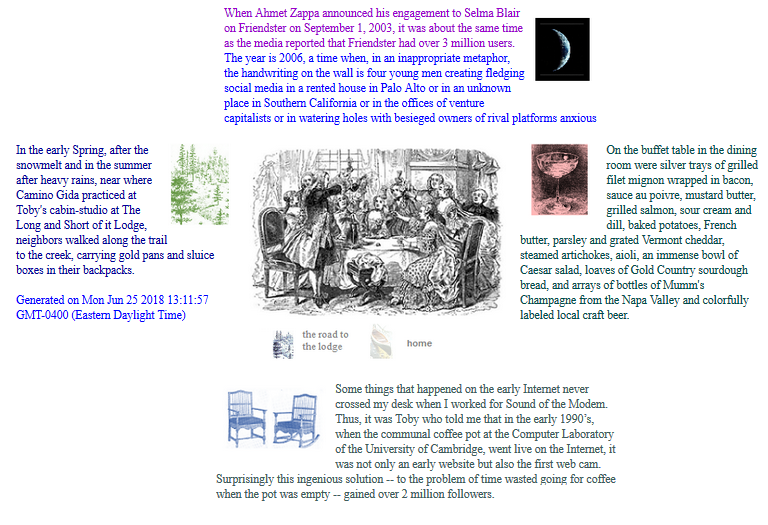 "An electronic poetry is a public word, projected across a public world, across systems, itself as system." Loss Pequeno Glazier, Postmodern Culture
A s the writing and coding to Arriving Simultaneously on Multiple Far-Flung Systems comes to a close, I'm looking at the role of my process, which began 32 years ago, with Uncle Roger, of releasing the work online as it progresses -- and at the place of this process in electronic literature practice.
Because the text is not written in a conventional serial manner, releasing electronic literature as a serial -- in the conventual meaning of sequential release of sequential narrative -- is seldom possible.
The way I approach the writing of electronic literature is to design works that are created with different arrays, each containing multiple variables ("lexias" per Barthe -- or "records" in the database terminology that I originally used [2]). New writing to one array or another takes the whole into consideration, but the work is composed with interlocking arrays that rather than a sequential narrative, create a narrative environment.
"The 19th century custom of initial serialization of works of fiction, its popularity often attributed to Charles Dickens' The Pickwick Papers, situates fiction -- before the works are hardened into books –- in the domain of public literature. Indeed, there is about this reoccurring method of transmitting literature, the imagined vision of the citizens of London once a month simultaneously but separately eating breakfast and reading the latest 'shilling part' installment of The Pickwick Papers" Judy Malloy, Convergence.
Given that Arriving Simultaneously on Multiple Far-Flung Systems is composed of arrays of variables that are each produced randomly -- and that which array the reader chooses cannot be foreseen and furthermore some arrays themselves are produced at random -- new writing to the work may not be immediately apparent to the reader. Nevertheless, because every variable that I write is uploaded to the work online, from my point of view, I am writing a work of public electronic literature that is released in a serial fashion. It would, however, be more precise to say that every day that I add to the work, I have enriched the narrative environment of Arriving Simultaneously.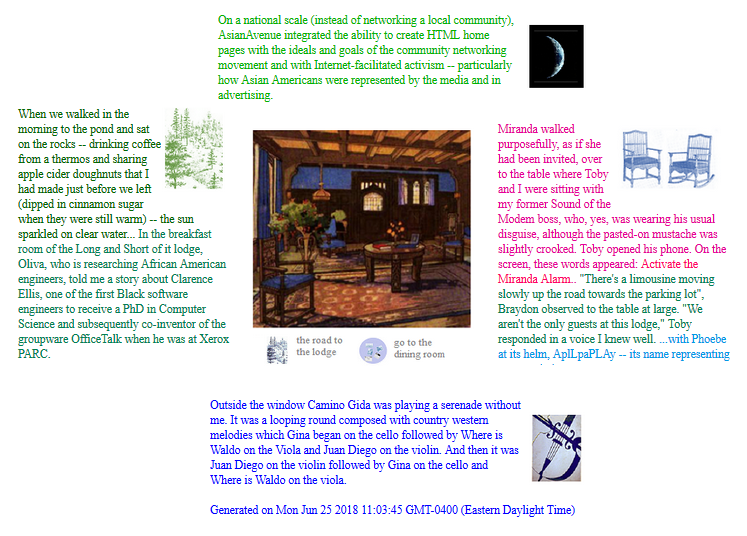 Writing to multiple arrays is like moving into a new home and slowly making it livable (as exactly the right chair or bowl of flowers is brought into the environment). A painter may replicate this process, until the whole is precisely that (a finished whole). There is no reason that writing cannot progress in this way. Contingently, it is always of interest to observe how radically one or two new variables alter the environment I am creating.
Narrative buildup in electronic literature -- when it does exist -- might be a series of interlocking texts that foreshadow an event. However, in electronic literature, the probability that reader will traverse the foreshadowing texts is nowhere near as high as the probability that a reader of sequential narrative will read foreshadowing texts.
A limo was incongruously in the parking lot when Phoebe arrived at the Long and Short of it Lodge; Braydon saw the limo when it drove past a window in the breakfast room. Perhaps when the mystery of the limo climaxes, the reader saw these sightings or one of these sightings; perhaps s/he did not. In an environment of narrative information, seeing these texts at a later time is also of interest. And, like music, a work of electronic literature should be "played" more than once.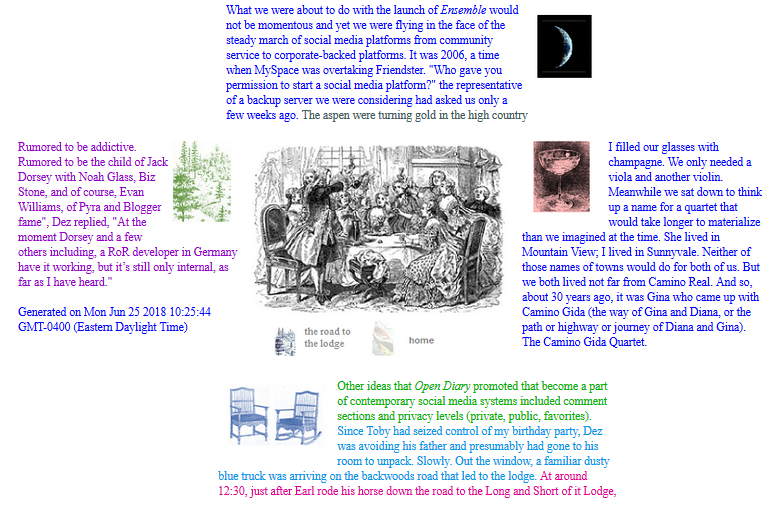 In the final file of Arriving Simultaneously on Multiple Far-Flung Systems, information about Diana's life is presented along-side information about the development of contemporary social media. These co-existent streams of words merge as Diana and Gina buck the system.
variable socmedf (in the Earth from Apollo array)
If there was no nonprofit funding forthcoming, would two women be welcome in the Sand Hill Road offices of venture capitalists? I wasn't looking forward to finding out. But first, we were about to see if we could build a user base. Like Chris DeWolfe and Tom Anderson selling MySpace, would we heighten the buzz for Ensemble and go (instead of to the Viper Room) to small halls where fledgling quartets were playing? I did not see this happening.
variable ensemblehb (in the Earth from Apollo array)
What we were about to do with the launch of Ensemble would not be momentous, and yet we were flying in the face of the steady march of social media platforms from community service to corporate-backed platforms. It was 2006, a time when MySpace was overtaking Friendster. "Who gave you permission to start a social media platform?" the representative of a backup server we were considering had asked us only a few weeks ago.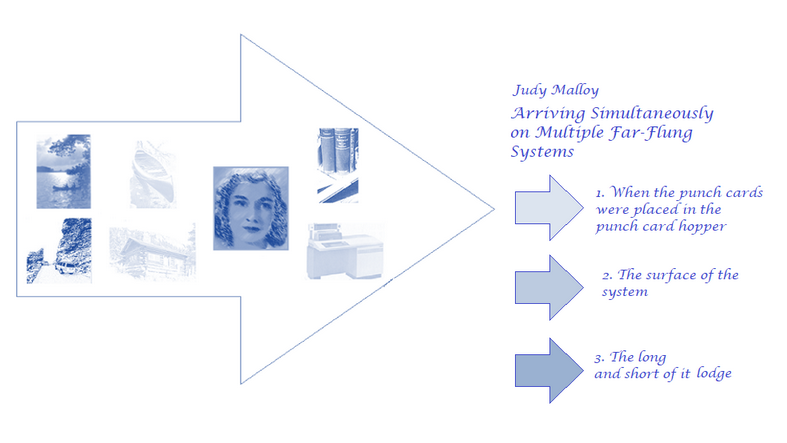 1.L.P. Glazier, "Jumping to Occlusions", Postmodern Culture. 7:3, May 1997. Available at: http://epc.buffalo.edu/authors/glazier/essays/occlusions/
2. Judy Malloy, "Uncle Roger, an Online Narrabase", in Roy Ascott and Carl Loeffler, eds. Connectivity: Art and Interactive Telecommunications, Leonardo 24;2, 1991. pp. 195 - 202
"The record is the building block of the computer database. In Uncle Roger, each record contains 1 to 18 lines of text. Unlike a paragraph in most novels, the record in Uncle Roger is designed so that it can either stand by itself or be combined in various ways with other records to build up levels of meaning."
3. Judy Malloy, "From Ireland with Letters: Issues in Public Electronic Literature", Convergence, The International Journal of Research into New Media Technologies, 24:3, June 2018 -- Available at http://journals.sagepub.com/doi/full/10.1177/1354856516675255
June 11-12, 2018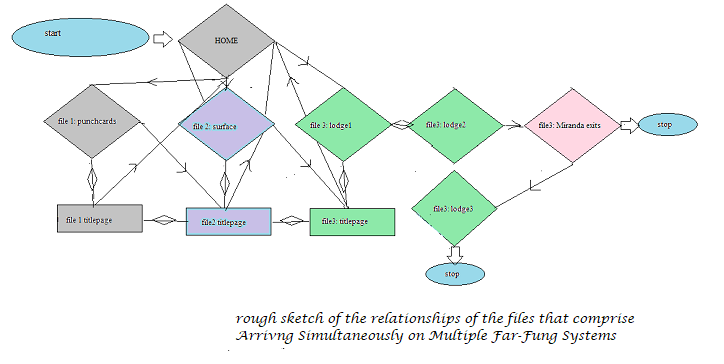 Arriving Simultaneously on Multiple Far-Flung Systems immerses the reader in a series of fluctuating polyphonic arrays that document a woman coder's life. In the process, it conveys how the technologies she works with have changed from 1968 to 2006 and how these shifting technologies -- as well as places and people -- have contributed to the course of her life. Yes, Arriving Simultaneously is composed with randomly generated texts; yes, I'm inclined to focus in this notebook on the composition process, but primarily -- despite the flowcharts and the composer's algorithmic craft of writing to coded variables -- Arriving Simultaneously is a story.
Those who follow medieval manuscript histories will understand the need to look at the processes with which writers of electronic literature are developing an incipient field. The print book as we know it was centuries in the making. Contingently from a software engineering point of view, there is something to be said for initially creating a flowchart that notates how a three-part work will be navigated. It can also be expected that this flowchart will be tweaked in the process of writing and coding the narrative.
As the rough chart that opens this brief notebook entry indicates, the top (home) page of Arriving Simultaneously leads to the icon interface (rather than to the interior titlepage) for the selected file. Secondary interior title screens for each file situate the reader more clearly in the navigation process, but the reader begins with the mystery of the icon-interface screens. This is particularly important in file 1 (When the punch cards were placed in the punch card hopper), where the path of Diana's post-college life is initially confronted, and the reader's traversal choices impact how Diana's life in this era is revealed. Additionally, precisely how much of the narrative is exposed by the opening screen of File 2 (The surface of the system), is important in conveying the transition from Boulder, Colorado to Silicon Valley, California.
At this point, although in certain arrays, more text needs to be written, many of the interior interface devices have been activated. According to my 2016-January 2018 writer's notebook work on Arriving Simultaneously on Multiple Far-Flung Systems was begun in in August 2017. It will premiere this August at ELO2018, hosted by Université du Québec à Montréal.
Meanwhile, I am happy to announce that this fall, I will be teaching Social Media Narratives in an online environment for the Art & Technology Studies Dept. (chaired by the legendary Eduardo Kac!) of the School of the Art Institute of Chicago!
And it has been a good week for walking in the woods.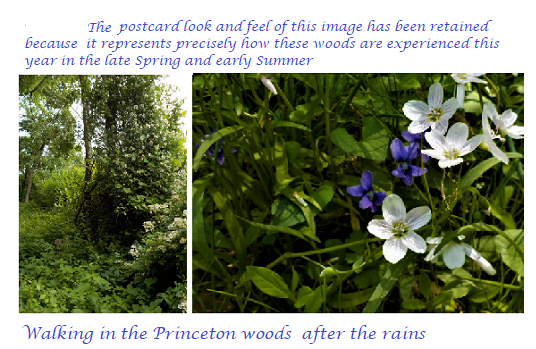 May 27-28, 2018
In the May 12-13 entry in this notebook, I wrote that The Long and Short of it Lodge, File 3 of Arriving Simultaneously would go live on June 1, 2018. Actually, it went live on circa May 20, 2018. Following my writing practice, begun in 1986 with Uncle Roger on early social media, parts of this aleatoric narrative are slowly released online, until the whole is completed.
About five days later, the top page for The Long and Short of it Lodge was created and installed. I'm not sure of the exact date. The date on the filename (either online or on my system) might in some cases disclose this, but since I made a few changes, the original date the top page was created and installed is no longer retrievable. Such issues are the nightmares of archivists in the computer age, and, yes when I was keeping a print notebook I might have noted this. Matthew Kirschenbaum has written eloquently on this subject.
Below is an image of the cover page for The Long and Short of it Lodge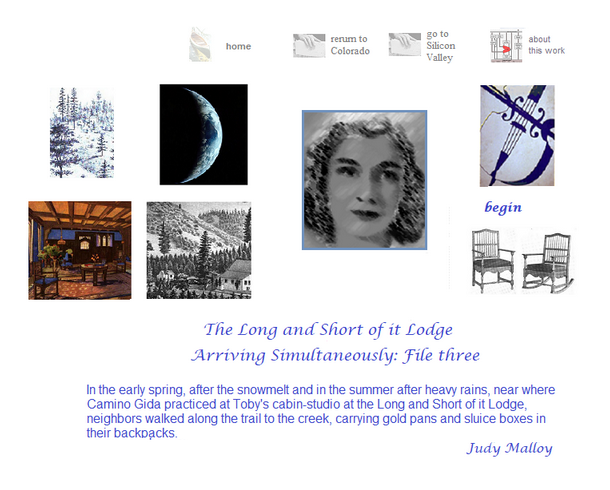 T he point when it becomes difficult to generate output that contains writing-I-would-like-to-highlight has been reached. Reader, this means that I have no more control over the output than you do. Although at this point, it also means that The Long and Short of it Lodge is working, it does not mean that the writing is finished.
Finding Diana's voice was initially difficult, but because of her declarative style ("About thirty years ago, Miss Maria Ward of Huntington"; "The family of Dashwood had long settled in Sussex"), I have been rereading Jane Austen's work, which, in Arriving Simultaneously is tempered by Diana's obsession with technical information (I did not have to look far to find an example of this). Below are two screens generated from the six arrays that currently comprise The Long and Short of it Lodge.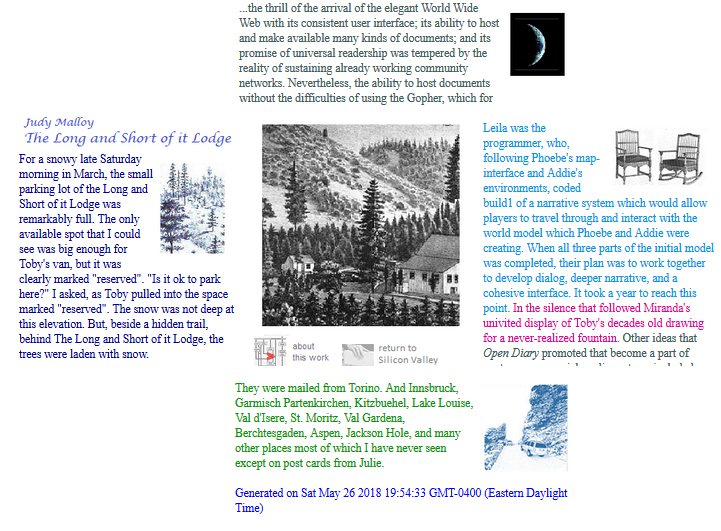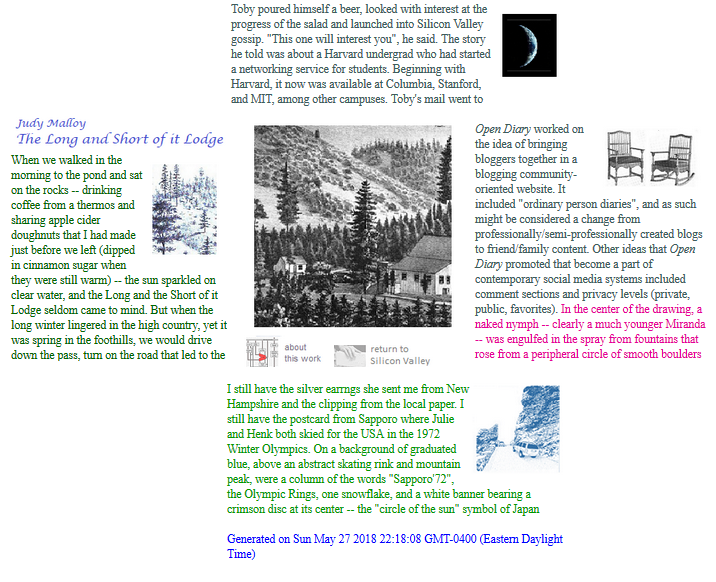 Yesterday, I pulled in the icons and did the coding for the second screen of The Long and Short of it Lodge: the time when guests start arriving at the party. This morning, I wrote two variables one of which you can see in the output below.
For this screen (which is accessed from screen1, by clicking on the central image of the lodge), in addition to writing new variables, I will be retaining some of the variables on screen1 (Others will be removed) -- until in a few weeks, screen2 will reflect the arrivals of guests, while at the same time it refers back to the opening.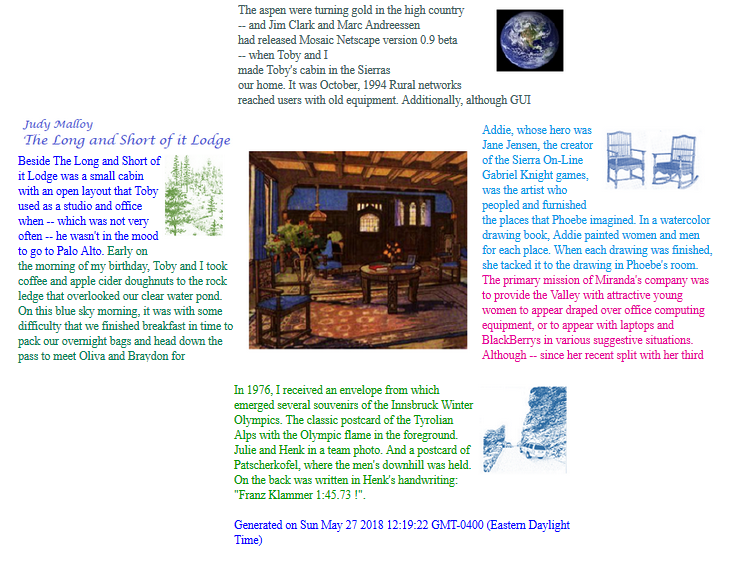 This is a very enjoyable process for a writer of electronic literature. And I look forward...
May 12-13, 2018
A s in the middle of the first decade of the 21st century, Diana's family, friends, and colleagues prepare to converge in the California Gold Country, the interface code for The Long and Short of it Lodge, file three of Arriving Simultaneously on Multiple Far-Flung Systems, is working! Writing for the initial eight aleatory arrays is underway. The text is scheduled to begin appearing online on circa June 1.
Meanwhile, in the midst of the happy bucolic scenes partially shown above in the mockup, the demise of the Sound of the Modem is chronicled. The history of the Long and Short of it Lodge is revealed. And at a power lunch with Toby, Uncle Roger reveals his unsuccessful attempts to acquire pieces of Facebook and Twitter.
May 9, 2018
F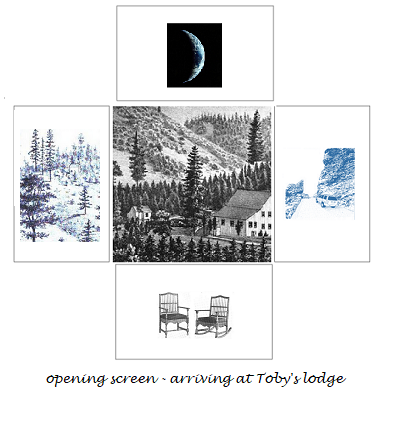 inding perfect images for a work of electronic literature is a time-consuming task -- whether it's only for a cover or, in the case of Arriving Simultaneously, it is for an icon-keyed work.
I would like to begin file three of Arriving Simultaneously with an image of the outside of the lodge in the California foothills where the party for Diana's birthday takes place. The central image on the left of this paragraph is a gold mine that I found in an 1881 history of the California gold country. The mine no longer exists, so I somewhat changed the image, and in the process imagined its foremost building as a lodge and restaurant that recreates some of the spirit of the original. This is appropriate for a party where many of the people attending work in Silicon Valley. However, I am not sure that this converted gold mine will be the final image.
The icons in the diagram are provisional and will probably change when the writing begins. Each iconed space will include randomly-generated words.
In March 26-27, 2018 in this notebook, I blue-skyed the interface for file three of Arriving Simltaneously in this way:
"the interface for file three is ...planned to be more dynamic -- with people crowding simultaneously into the lodge, and many things happening at once. In contrast to A Party at Silver Beach, there will not be an exploration of several rooms. Instead, file three will be a rapidly unfurling finale, set in an interface that might owe something to DH graphic representation."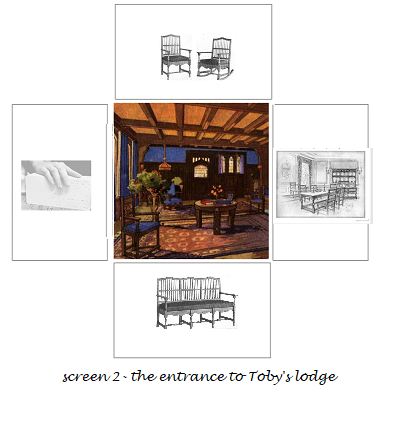 But when I looked at the plan above in relation to the first two files, I was concerned that I had eliminated space for written narrative. Additionally, I decided that it would be more consistent to retain the generative arrays interface used in files one and two. It was also clear that given the number of guests, I would need several rooms. So, although this is not yet coded and tested, my current plan is to interface file three with three pages as follows.
page 1. the outside of the lodge, surrounded by arrays of people on their way to the party. Clicking on the array icons will produce different people and texts. Clicking on the central image will fade to the inside entryway to the lodge. (page 2)
page 2. the inside entryway to the lodge. This image (above right) is taken from a 1918 issue of House and Garden. The icons are provisional. Clicking on the central image will fade to the dining room. (page 3)
page 3. the dining room. Although some possible images have been found in early issues of Hotel Monthly, I have not yet found an appropriate image for the dining room.
The search for imagery continues. Meanwhile, to see if my proposed interface is workable, it is time to begin preliminary coding and writing.
onward...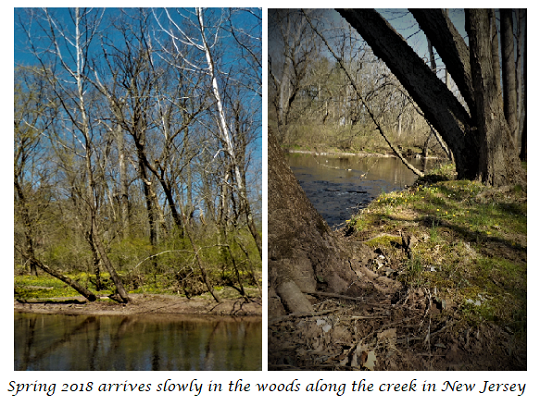 April 24, 2018
A lthough only three arrays appear at the onset, the surface of the system, the second file of Arriving Simultaneously on Multiple Far-Flung Systems, is composed of 14 different arrays. Each array contains words that provide a different view into the life of a woman programmer in Silicon Valley, beginning in 1971. By clicking on the icons in the interface, to a certain extent, the reader controls what part of the narrative s/he sees. But, since the code generates every array differently, each time it is called, precisely what the reader sees is unpredictable. Additionally, which array the punch cards and the unlabeled floppy disk icons produce is also controlled by the computer in a random fashion.
Only several more weeks of writing remain before I (temporarily) abandon writing to the surface of the system and begin the concluding file of Arriving Simultaneously. As the moment of transition approaches, these things are on my mind:
1. Twenty-five years ago (before the advent of the World Wide Web), only a few readers would find exploring the surface of the system a satisfactory experience. Contemporary readers, however, are used to reading online newspaper interfaces, as well as negotiating clickbait interfaces that tempt the reader to click on one of an assorted range of narratives (This does not mean that sleazy look and feel of clickbait pages is desirable).
2. Every time I enter new words to an array, I generate the work until the new words appear -- looking both for how they integrate with the rest of the text in the array where they are housed and how they integrate with the texts that surround them. At this point with over 400 variables, I will not see how all combinations work. However, after a while a writer of generative literature acquires a knowledge of how the code works with the words.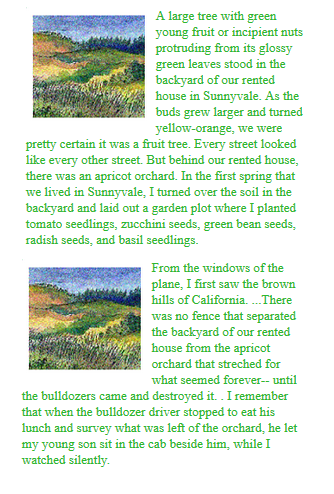 3. In this work, as a writer of experimental narrative I write to an interface where the reader will absorb details, and gradually a picture of the life of Diana will emerge. I also know that if the reader only elects to spend a short of time with the work, a very different picture might emerge for each reader. Diana's life in Silicon Valley is complex, sometimes magical, sometimes challenging -- whether it is experienced in five minutes or in several hours. Last week, for instance, in response to the relentless texts about the bulldozing of an orchard in Silicon Valley, I looked back in time and also remembered planting a vegetable garden in Sunnyvale, as well as the presence of the persimmon tree in the back yard. And in the process, I noted that, as illustrated in the output, the different variables that are generated at the will of the computer create a work as unpredictable as the experience of living in Silicon Valley itself.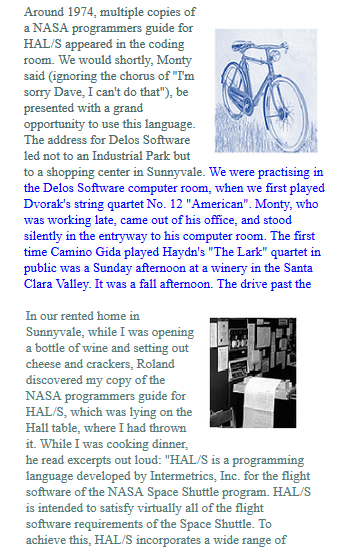 4. After an array was created for the Camino Gida Quartet -- which Diana and Gina blue-skyed while they talked on the sidelines of a Computer Science Department celebration -- I began to listen to string quartet music (It was helpful that I did briefly play in a string quartet). Not unsurprisingly, this listening was important in coordinating the different arrays that comprise the surface of the system. For instance, I began to insert text from the Camino Gida array in the Delos Software array. It does not appear very often due to where I placed in the code. But I am happy when it does appear,
In other examples of themes being passed back and forth in the arrays that comprise the surface of the system, the HAL/S programming manual appears in both the Delos Software array and (when Diana takes it home) in the Roland-at-Stanford array.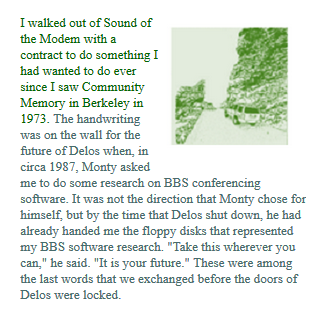 5. Central commentary on changing technologies in the Valley -- and the impact on employment -- appears in the floppy disk array, but details also appear in other arrays, such as the Delos Software array and the Sound of the Modem array. In the eras that Diana's work encompasses, it was not unusual for employees to arrive to a locked door. Takeovers could be engineered by boards and/or stock owners and were not necessarily the fault of the owner. Employees could leave en mass to start a competitor (Fairchild, for example). Changes -- such as the advent of the World Wide Web -- were not always predictable.
6. My work as a writer of a complex aleatory work is to create a satisfactory experience for readers who are willing to explore a work of fiction created with multiple generative arrays. Ideally, readers will run the work until the details build into a coherent narrative. But there are instances in the surface of the system, where some readers may not know precisely what is happening. For instance, there are variables in the floppy disk array that forecast the sidelining of community networking engendered by the arrival of the WWW. I'm contemplating adding an essay on some of these issues when the work is completed.
When Sound of the Modem folds, Diana will go on to propose and write the software for a social media platform for classical musicians that will allow musicians to manage Internet presence, share repertoire, create new groups and performance spaces, and build audiences and reputations. But that is not yet written. Onward...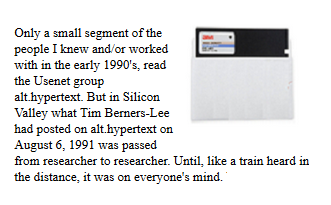 April 9, 2018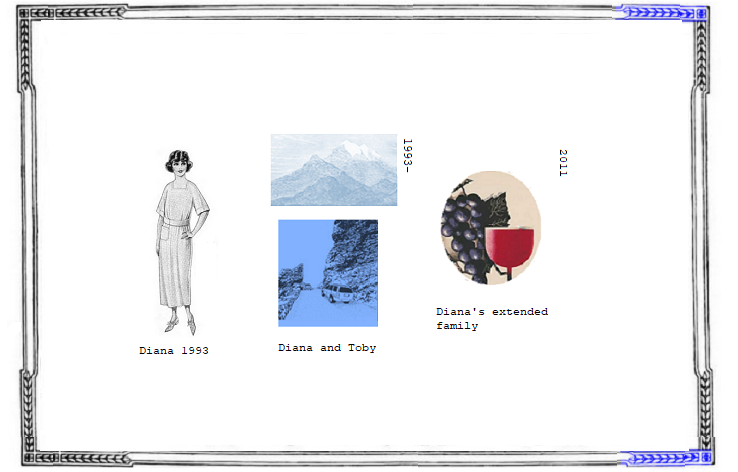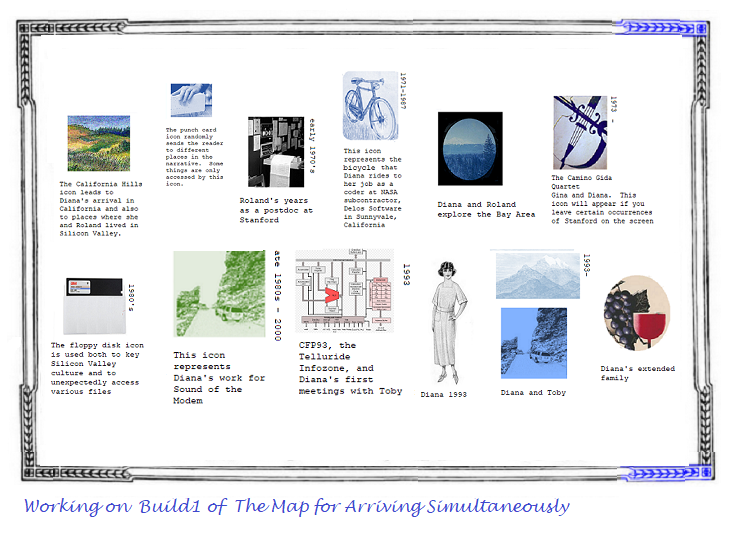 I n a work of electronic literature, how much to tell the reader in the documentation is often an issue. If, as they are in Arriving Simultaneously on Multiple Far-Flung Systems, unexpected surprises and the act of exploring the work are a part of a reading process in which eventually the reader becomes immersed, then -- just as print literature relies on the progression of the narrative and generally does not summarize the story at the onset -- disclosing too much at the onset can detract from immersion in the narrative. Nevertheless, when I saw The Infocom Dept. of Touristry Lost Despondent Adventurer's Map of The Great Underground Empire, a "feelie" which accompanied Zork in some packaging, it was evident that I had missed some of the most enchanting details in the story. So, I went back and found them.
To look at it in another way, the pleasure of assembling a puzzle would be lost if the puzzle arrived assembled. But at the same time, without the picture of the whole on the cover that usually accompanies puzzles, assembling the puzzle would be more difficult.
With this in mind, a preliminary map for Arriving Simultaneously (so far) was created last week. It is not the final design, but it gives the reader, who has already begun to explore the work, a deeper understanding of the function of each icon and a clearer idea of the relationship of the changing time frames to each other.
The map is currently only accessible from the "about" file. My inclination is to leave it in the "about" file, rather than making it a primary click on the top pages, but the final decision on this will not be made until the work is completed.
And I look forward to making a large foldout artists book "feelie" in conjunction with Arriving Simultaneously on Multiple Far-Flung Systems.
March 26-27, 2018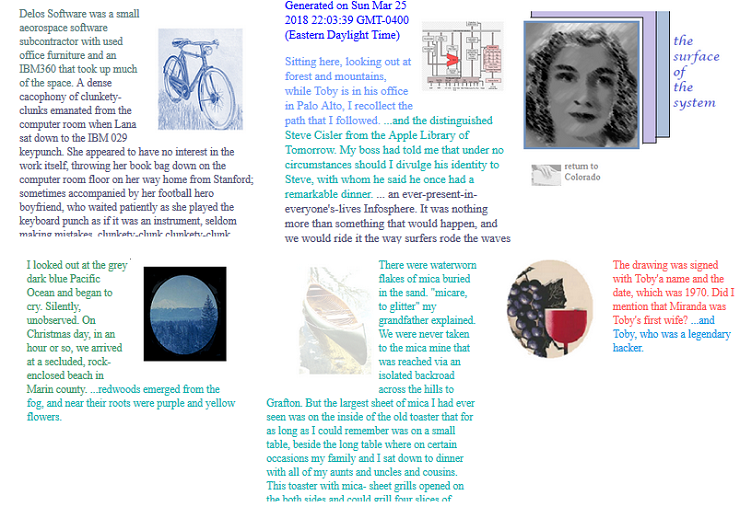 I am happy to report that Arriving Simultaneously on Multiple Far-Flung Systems will premiere this August at ELO2018 hosted by Université du Québec à Montréal.
Meanwhile, in the surface of the system, although no one generated page divulges the story, much has been written in the last two weeks.
From her point of view, Diana's experiences at Ball Aerospace, Delos Software, and Sound of the Modem are at the core of this story of one woman's coming of age as a programmer in the Colorado aerospace industry in the 1960's; as a programmer in Silicon Valley in the 1970's and 1980's; and as a programmer in the altruistic 1990's era of community networking.
Many extraordinary things happen in Silicon Valley; too many of these stories are told by men. That this is a story about a woman told by a woman is a distinguishing factor. However, in some cases, the reader may need to stand back and look at the situation to understand what is happening. For instance, Diana's acceptance at Delos Software is partly because she comes with a NASA recommendation. In such situations, a NASA subcontractor will not haze a woman, even if Monty was inclined to do this, which clearly he is not. This does not mean that in her home life, she is not subject to the gender expectations of her era. The text is aleatorically generated; some details will be seen immediately; others will not appear for many readings. Such is life.
And, as we look at gender relationships in Silicon Valley, we should be aware that if this is a relatively positive story for a woman, that is important. But every story is not the same.
According to my schedule, the work on file three of Arriving Simultaneously on Multiple Far-Flung Systems, will begin at the end of April. As is my custom, file three will have the same name as the title of the work as a whole, i.e. file three will be called Arriving Simultaneously on Multiple Far-Flung Systems. It will unfold as follows:
In circa 2006, (date change inserted May 12) a few weeks before Diana's birthday, in response to a leaked guest list created by Dez (Toby and Miranda's son) and Phoebe (Diana and Roland's daughter) Diana's husband, Toby, invites some of Diana's old friends to her party -- without telling either Diana or Dez and Phoebe. The flaw with this plan is that too many people will be invading their peaceful home in the mountains. The party will have to be somewhere else.
With this in mind, Toby hacks his son's guest list and sends everyone an email redirecting the party to a lodge in the Gold Country, where he has rented an entire room and ordered some suitably grand food and drink (paid for in advance in cash; May 12. 2018 change: actually Toby ownes this lodge). He waits until she begins considering what to cook for the party to tell Diana -- at which time she says, "great idea".
There now being no need to open their home to overnight guests, Toby and Diana settle in for a quiet evening before the party. The following day, they drive down the mountain to the lodge, that is the site of Diana's birthday party. As file three begins, guests are arriving.
Although the interface for file three is influenced by the interface of A Party at Silver Beach, it is planned to be more dynamic -- with people crowding simultaneously into the lodge, and many things happening at once. In contrast to A Party at Silver Beach, there will not be an exploration of several rooms. Instead, file three will be a rapidly unfurling finale, set in an interface that might owe something to DH graphic representation.
The different industry, academic and research connections of Diana's extended family, that will be highlighted at her birthday celebration in Arriving Simultaneously on Multiple Far-Flung Systems, will bring this media-archeology-based work into the present. And, as Diana and Toby ride off into the sunset to found a new non-profit social media platform, Arriving Simultaneously on Multiple Far-Flung Systems will highlight gender, education, and corporate vs non-profit culture clashes -- providing (at one lodge in the California Gold Country) different lenses to observe the current techno-climate in Northern California.
March 10, 2018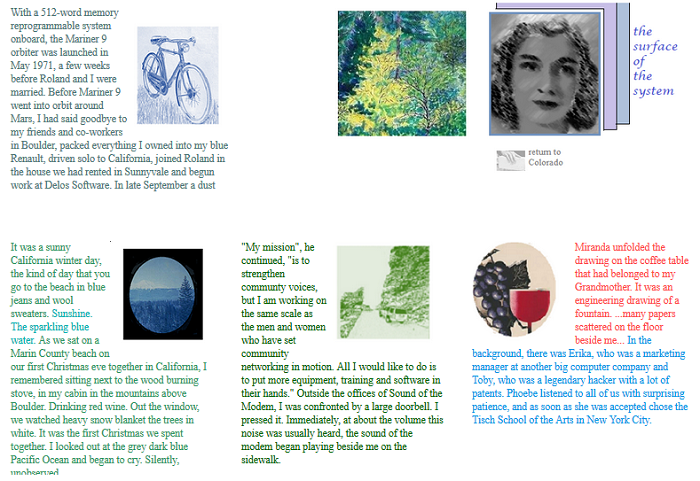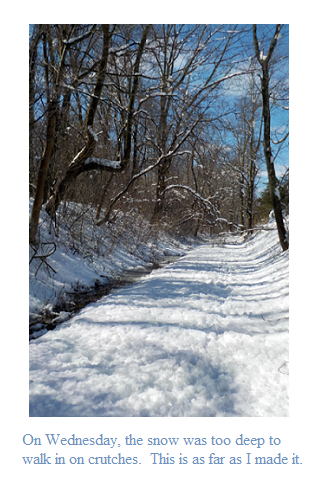 T he power is back on! It went out in the wind storm last week and came back a day later. This week, during a heavy snowstorm, the power went out on Wednesday. Thankfully, it came on again around 5:00 yesterday. Ahh..heat, the blinking of the lights on the router, hot water, a working stove, and light. This pleasantly warm morning, River, my 20-year old born-feral cat sat beside me and purred for almost an hour.
While the power was off, I wrote these words:
"The heat is electric, and so is the stove; there is no hot water. A cold wind is blowing outside while -- encased in various layers of mountain camping gear -- I write these words. I have not been camping in the mountains since I moved East, but I still have the North Face sleeping bag. Once after an accident, when my femur broke where it was pinned and fell into my kneecap, I decided to go to the Sierras in June. Even though I still had a large cast, it seemed important to go to the mountains. At about 7000 feet I slept in the back of my truck in my North Face sleeping bag. Out the window, there were pine trees against the night sky, and the sound of the creek. But in the morning when I woke up, it was snowing hard. I would have liked to stay, but due to the cast, I retreated down the mountain, and by the time I saw the 5000 ft altitude sign, I had left the storm behind me."
In very cold environments, it is hard to concentrate on writing and coding electronic literature -- particularly when the keyboard is cold, and a constant watch on the remaining battery percentage is necessary. Furthermore, if you crawl into a North Face sleeping bag and turn on a flashlight -- even though you are writing someone else's life, your own life plays in the deep background.
And sometimes, at such times, even though I'm writing a work of fiction with fictional characters, I see my life in a different way, not necessarily for better or worse, just differently. My own story is more complicated than the story I tell in Arriving Simultaneously on Multiple Far-Flung Systems, but this week it was the radical change that occurs when Diana moves from Colorado to Silicon Valley that was on my mind. And I was surprised by the intrusion of my own memories.
In When the Punch Cards Were Placed in the Punch Card Hopper, file one of Arriving Simultaneously, a seemingly fractured life -- of living in the mountains and at the same time working for an aerospace company -- is played and replayed with icons and generative arrays on one electronic manuscript page (and one accompanying "kaleidoscope" page). When Diana goes with Roland to Silicon Valley in the surface of the system, generative arrays divulge a more complicated life in a radically different environment. And yet, Diana's life in Silicon Valley is also accessible by exploring only one page. To create these surprising electronic manuscripts, both Diana's Colorado life and environment and her Silicon Valley life and environment are composed with a combination of interactive choices and aleatoric arrays.
E lectronic literature is many things; one is an exploration of how a writer can create narrative in previously unimagined ways. With repeated "readings", Arriving Simultaneously does what I set out to do: create a portrait of a complex life in a time of rapid technological change.
Watching a film is different from reading a book. If filmmaking or television had never been explored because we already had books and theatre, an important part of contemporary culture would be missing. And, it should be remembered that in the electronic literature process of exploring new creative systems, we have not lost print literature.
February 21-22, 2018

I n his Scientific American paper, "The Reading Brain in the Digital Age: The Science of Paper Versus Screens", Ferris Jabr presents evidence that in areas such as engagement, memory/retention, comprehension, recognizable and effective interface, navigability, and tactile experience, more readers prefer print reading to on-screen reading.
"But why", Jabr asks "are we working so hard to make reading with new technologies like tablets and e-readers so similar to the experience of reading on the very ancient technology that is paper? Why not keep paper and evolve screen-based reading into something else entirely? Screens obviously offer readers experiences that paper cannot." [1]
Contingently, in his introduction to "Instruments and Playable Text", a 2008 issue of the Iowa Web Review, Stuart Moulthrop observes:
"...Massively multiplayer online games and social networking sites create new channels for contact and community. No doubt these are all brave new worlds -- as Prospero snaps, brave to thee -- and thus about as perfect as no utopia can ever be. Yet for old men like me, who stand skeptically on the margins, secretly mourning our drownTd book, it is impossible to deny, if we owe anything to truth, that these unlikely systems work far better than we guessed.
So the times change, and text becomes playable, or is placed in play, just as our Oulipist masters intended; or even as not. Sometimes, perhaps, play evolves in directions we do not anticipate. Foreknowledge is necessarily imperfect: if we could predict the future, who would ever go there?" [2]
It is likely, long time Stuart-colleagues might suggest, that in this introduction and this issue of TIRW as a whole, Moulthrop is playing off Noah Wardrip-Fruin's 2005 Dichtung Digital paper, "Playable Media and Textual Instruments", in which Wardrip-Fruin writes:
"And a focus on the playable also attracts me for another reason—because we play more than games and 'not a' games. We also play instruments, and compositions. And it is at the juncture of these senses of play -- that for games, and that for music -- that a thought-provoking discussion about playable texts has been taking place in the electronic literature community." [3]
We are in an era, like the era of theory composers in early music (Guido d'Arezzo, Franco of Cologne, Paolo da Firenze) -- that will probably not shake out, so to speak, for a while but will remain influential in shaping the field. Meanwhile, we continue to explore the fertile challenge of exploring the potential for computer-mediated words and computer-mediated words and images.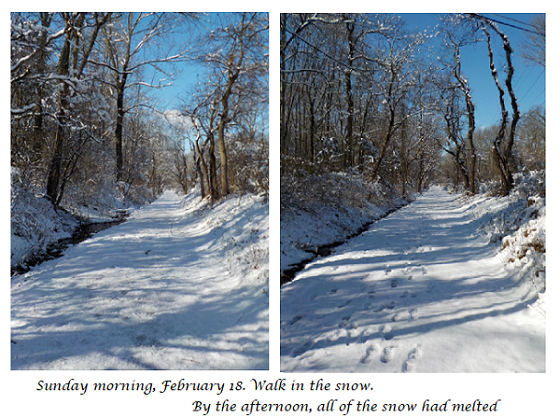 B eginning in 1991 with Wasting Time, some of my words are informally or formally scored. What I mean by polyphonic text (in paths of painting and memories and in From Ireland with Letters) is that parallel texts are scored, the way a piece of polyphonic music is scored. The user, however, can disrupt these carefully composed works and play them however he or she wants.
Either way, you can call it playable if you want to.
Arriving simultaneously, however, is composed with multiple texts in a Cagean manner, i.e., it is not classically scored. Rather -- with its arrays of randomly produced words and unreliable punchcard and floppy disk icons, it is a responsive, playable work, composed with both dissonance and harmony. The "playing" of the text is pleasurable, but as the punch cards signify, this App reflects the growing complexity of a technology-centered life in an info-environment of continuous change.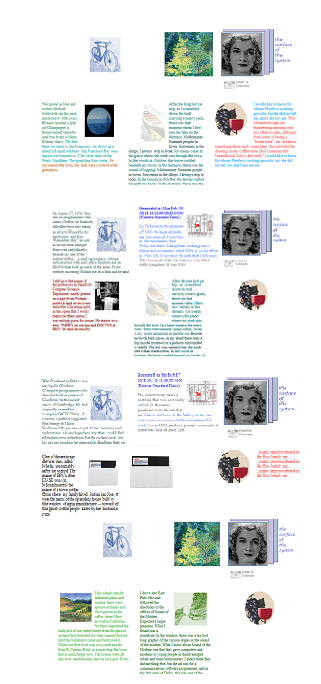 My work began long ago with the desire to create works where neither were the images illustrations of the text nor was the text a description of the images. You can see this in the documentation of the card catalogs. The relationship between the surface and the system is not workable in print, yet, when I used icons in the dividers in the card catalogs, that was what I was trying to do. However, the artists books were not as responsive or playable as are the two files (so far) of Arriving simultaneously, when the punch cards were placed in the punch card reader and the surface of the system.
Perhaps it will not immmerse the viewer in who Diana is and how the changes in tech environments impacted her life, nevertheless, I can also envision a print scroll or accordion-folded artist book of generated pages from Arriving simultaneously -- hung on a gallery wall from ceiling to floor or unfolded on a table. I would like to do this. One art form does not supersede or negate another.
There is much more writing to do. But at night when -- in order to see where next to insert words -- I "play" the virtual machine that is Arriving Simultaneously -- Diana's life emerges. These past two weeks I have been composing the words for file 2, the surface of the system.
_________________________________
1. Ferris Jabr, "The Reading Brain in the Digital Age: The Science of Paper Versus Screens, E-readers and tablets are becoming more popular as such technologies improve, but research suggests that reading on paper still boasts unique advantages", Scientific American, April 11, 2013
2. Stuart Moulthrop, Guest Editor, "Some Joyces, Not an Eco", Instruments and Playable Text, The Iowa Review Web, TIR-W 9:2, July, 2008
Noah Wardrip-Fruin, "Playable Media and Textual Instruments", Dichtung Digital, 2005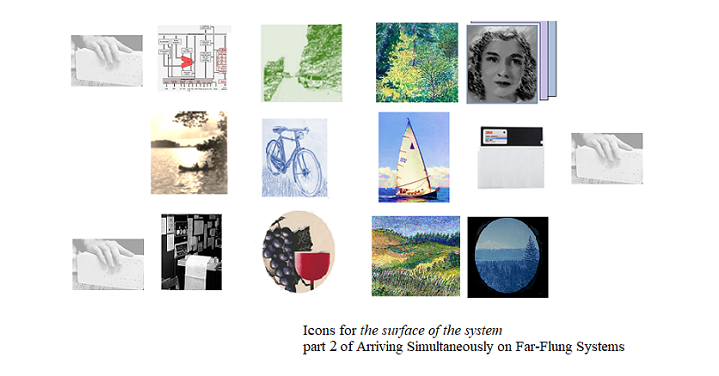 February 8, 2018

T he initial work on the interface, coding, and writing of the surface of the system was developed in the one-month interval between the conclusion of the 2016-2017 writer's notebook and the beginning of this 2018 writer's notebook.
There is no beginning in a work that is composed with eight aleatorically generated arrays, but if you follow the text generated by certain icons, it will appear that the surface of the system begins with Diana's arrival in Silicon Valley, following her marriage to Roland. In the 21st century, Diana might have remained at her high-level job in Boulder, but in the early 1970's, she moved to California to join her husband, who, when the narrative begins, is a postdoc in Stanford's fledgling Computer Science Department.
If you follow the bicycle that Diana rode to her job at Delos Software, memories of her 1970's sojourn at an Apollo-era software subcontractor in Sunnyvale begin the narrative. However, despite past memories, surface primarily documents the changes in her life and work more than a decade later, when the Internet biz alters the focus of Silicon Valley.
The complexity of Diana's life in Silicon Valley is conveyed in eight randomly generated arrays that are displayed in lexia spaces and accessed by an interface of icons and words. The punch card icon and the floppy disk icon activate additional lexia spaces and produce unpredictable content.
Icons are used as text generating interface devices in much the same way that they are used in Part I of Arriving Simultaneously. But, whereas the opening page of part I presents only the icons -- leaving the reader to decide where to begin revealing words -- the surface of the system opens with text attached to most of icons.
"The art historian will have to check what he thinks is the intrinsic meaning of the work, or group of works to which he devotes his attention, against what he thinks is the intrinsic meaning of as many other documents of civilization historically related to that work or group of works which he can master: of documents bearing witness to the political, poetical, religious, philosophical, and social tendencies of the personality, period or country under investigation." - - Erwin Panofsky [1]
OK. But what if your work exists in the same environment as "clickbait"? The fact -- that we cannot control the wide-web environment in which our work as writers of electronic literature exists -- suggests that there is a continuing place for tablet-based Aps that focus more directly on the work itself.
Or to look at this in a different way, when the punch cards were placed in the punch card reader, part 1 of Arriving Simultaneously is set in Colorado in a late 1960's distant past, which many contemporary readers approach with little knowledge. Isolation is heightened by the need to reveal the story -- with no idea of where to begin.
surface, however, is set in busy, complex Silicon Valley. Here, words attached to the opening icons create a dense interface, where each icon serves as writerly clickbait.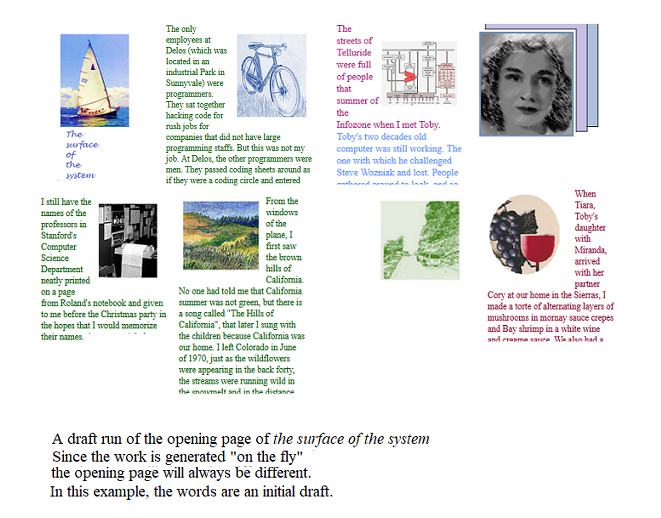 W hen I revisited Panofsky, it was not my intention to look at his work through his own text as it appears almost 80 years later. However, it became immediately apparent that his iconic example of the male friend raising his hat in greeting is not so likely to occur in the 21st century.
"To understand this significance of the gentleman's action I must not only be familiar with the practical world of objects and events, but also with the more-than-practical world of customs and cultural traditions peculiar to a certain civilization." - Erwin Panofsky
(The worst example of reading Panofsky in 2018 was when I read to myself his "And lo!" as "And lol".
Recently in CCSWG2018, (Critical Code Studies 2018), we have been looking at the meaning of the comments in the 1969 Apollo Guidance Computer (AGC) code. As this thread progressed, it became apparent how redolent of the era these comments are. The importance of 1960's culture in interpreting these comments was also apparent. For instance, a reference to Rosenkranz and Guildenstern in a code comment might send some generations directly to Shakespeare. But it it is important to also know that Tom Stoppard's play, Rosencrantz and Guildenstern are Dead was staged on Broadway in 1967 and 1968 -- at the time when the AGC code was being/reworked written and reworked.
One point of these writer's notebook digressions is that some of the icons in the surface of the system have allusive meaning that may not be immediately apparent.
Additionally, it is possible that the meaning of interface-based icons is altered as the web itself changes. For example, my initial use of icons in the web version of The Blue Notebook (1995) and my use of icons in A Party at Silver Beach(2003) reflect different environments.
The issue of how the presence of visual icons in a word-based work changes the reading experience will be explored in future entries in this notebook.
___________________________
1. The quotes are from Panofsky, Erwin, "Introductory 1", Studies in Iconology: Humanistic Themes in the Art of the Renaissance. Westview, 1972. pp. 3-17 (originally published by Oxford University Press in 1939.) Available online at http://tems.umn.edu/pdf/Panofsky_iconology2.pdf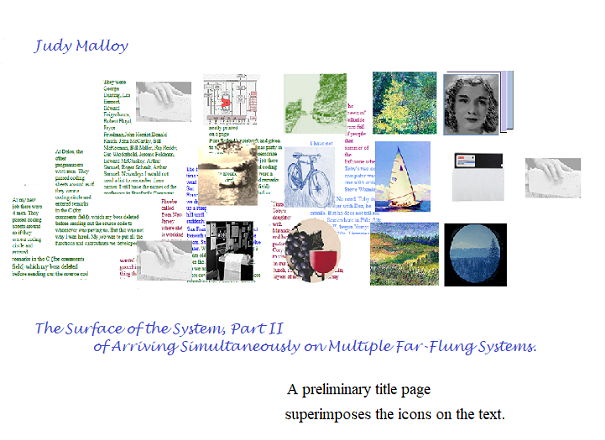 My 2016-2017 writers notebook can be found at
https://people.well.com/user/jmalloy/notebooks2016/malloy_notebook2016.html